While you're in Marrakech, a good suggestion would be to visit one of the local Hammams. Indeed, after a long period doing sightseeing, moving around and doing all sorts of activities in Marrakech, a hot steam bath might just be the very thing that you need, for you  to call it a day or just to relax and feel refreshed and clean.
The Hammams are public baths that carry a huge cultural package. In Morocco, along with many other Islamic cultures, the Hammam is where people cleanse for prayer, where people socialize and where they also relax. Visiting the Hammam is a very important weekly task for most of the Moroccans, especially during Fridays and the weekends. A person has to vist the Hammam only once to understand why Moroccans appreciate it a lot.
You can find a Hammam in every neighbourhood in Marrakech. These Marrakech Hammams range from very fancy ones that blend elements from all over the world in their Hammam experience, while keeping the most important characteristics, to the very traditional ones that can give you a close look at the Moroccans and their lifestyles.
For more details keep on reading.
History and culture
Looking back at the Moroccan history, the earliest trace of a Hammam dates back to the 8th century in Volubilis, which is an ancient Roman city that could be found near the city Meknes. since then, Hammams have always been a huge part of the Moroccan culture.
For the men, the Hammam is where you get clean for your religious duties and where men from all the social classes have conversations about the current affairs. For women however, Hammam isn't as accessible as is it with men. Women only visit the Hammam in special occasions.  It's also where old women choose the most beautiful mates for their sons. Such traditions are not as alive today as they were long time ago, but still the Hammam has a huge function in the Moroccan society, due to its symbolic value as not only cleaning the body but also the mind and soul.
A visit to a Hammam in the old Medina of Marrakech can show you how a neighbourhood is constructed. First there has to be a mosque at the center, not far away from it you will find a Souk (market), a Madrassa (Quran school) and of course a Hammam and a public oven, they sometimes go together. These buildings along with the Riads and fountains are the components of the social context of the old Moroccan Medina.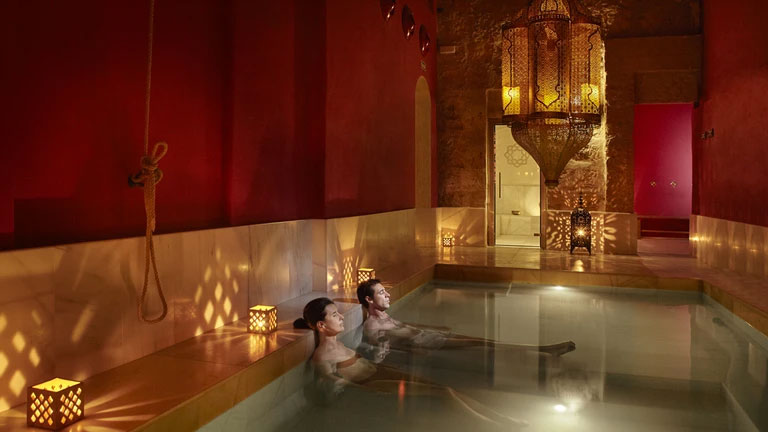 The Moroccan Hammam and the turkish bath
The Moroccan Hammams are actually different than the Turkish baths, which are also called Hammams. The Turkish baths are inspired heavily by the same Roman/Byzantin form of Hammams that Morocco is still saving exept for pools and also Moroccan Hammams are relatively smaller than the Romans. However there are some subtle differences. Morocco unlike Egypt or Syria, was never under the rule of the Ottoman Empire, That's why calling a Moroccan Hammam a Turkish Hammam is just a mistake. Although, nowdays we can see many Hammams taking the form of the Turkish baths in Morocco.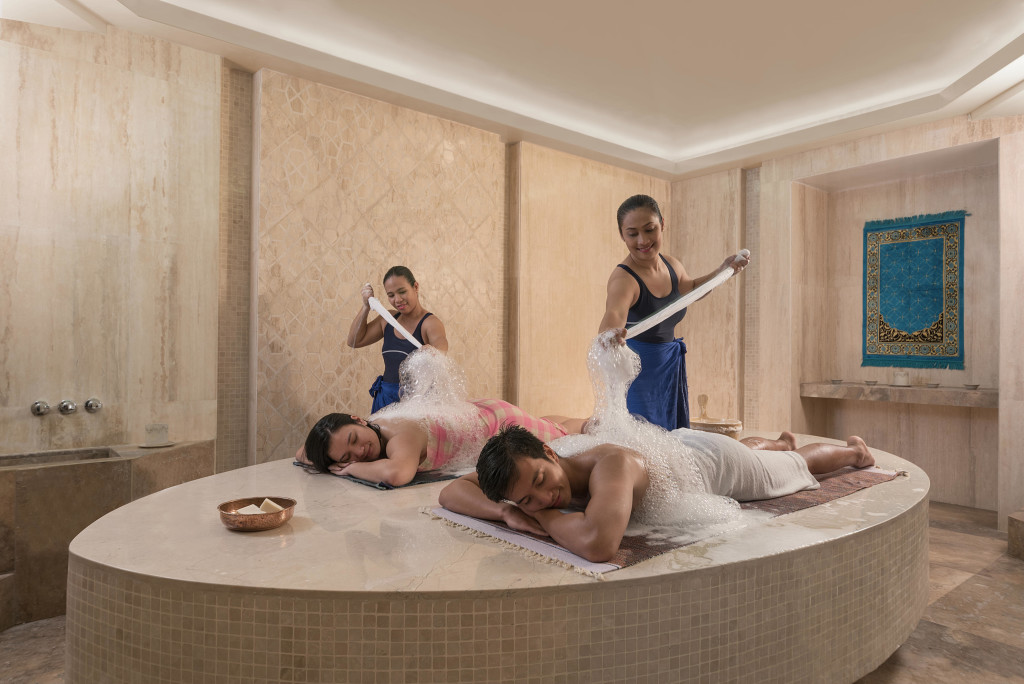 Book Your Morocco Tour
Book your Morocco trip with FriendlyMorocco expert team. We have wide selections of tours to choose from. The tours we provide are are well-organized to suit every passenger's needs. It is also possible to customize your tours. Feel free to contact us to get a quote or for more info!
The structure of a Hammam
Hammams typically have 3 main rooms that have different temperatures, a cold room, a hot one and a very hot one. Each room is for a certain activity, or sets of activities. The process of bathing in a Hammam follows certain steps, that take place in different rooms.
Islamic tradition values cleanliness more than anything else, to it pools are not as clean as running water. therefore, Moroccan Hammam have no pools. But those are just the more traditional ones. There some fancy and expensive ones in Marrakech that have pools, and many other extra spa services
The Hammam experience and the types
The traditional Hammam experience that you can have in a traditional Hammam goes through some steps. First you enter the very hot room, and relax there as much as you can. Before the Kassal(masseur/masseuse) does some stretching and joint cracking that will make your muscles relax. After that, you will need to start cleaning yourself or you can just tell the Kassal to continue in the hot room. The cold room is for washing the soap and to relax in a cold temperature before you put your cloths on and leave feeling as fresh as a baby.
The more fancy Hammams that you can find in big cities like Marrakech and Fez are still preserving the same formula, but they add to it more spa options, which took inspiration from other cultures from all over the world. Plus they serve drinks and food, along with cool music and all kind of other prestigious services. Different Hammams offer different services according to their menu. The masseur there are professionals too.
The Hammams are a great landmark in the Moroccan tradition and culture that you can appreciate as a visitor with all your heart as soon as you get the gist of it and actually relax to it as your body and soul are getting cleaner and cleaner.
tell us about your Hammam experience in the comments bellow if you ever had one.
If you need any help please contact our services
Shop With Friendly Morocco
Buy your Morocco souvenir or Moroccan clothes, our shop has the best Moroccan products, see for yourself!