Morocco is one of the most visited countries by tourists in Africa, especially by Europeans, and its popularity as a good vacation spot is only spreading more and more all over the world. However, if you haven't visited Morocco yet, you might have some questions about this wonderful kingdom. That's why we are dedicating this article to the frequently asked questions about Morocco, to help you get some insight before you decide to travel there.
Keep reading to learn more about Morocco.
What are the most important frequently asked questions about Morocco?
FAQ 1: Is Morocco a safe country?
As an economy, Morocco depends a lot upon tourism to balance its financial needs. In other words, Morocco's government needs tourists to feel safe and sound while they're spending their vacation and money in its lands. Thus it dedicates a lot of resources, especially human resources, to ensure that all the tourists are safe while they're in Morocco; this includes tourist police and highly competent guides that the government certified after training them. As for extremism and crime rates, we can say that the occurrence of such acts is just like the case in many European countries, as many statistics prove: low and rare.
Read more: is it safe to travel to Morocco? The complete guide.
FAQ 2: Is it safe to travel alone in Morocco without a guide?
Once you know your way around and get used to the local culture, you might enjoy traveling on your own. As long as you feel confident enough about it and avoid the shady places, you will do just fine. It will also save you some money. However, some places need a professional guide; you will most probably know that once you're in such a place, especially the spots outside cities like the desert for example where you need a guide to help you with the camels and stuff.
FAQ3: Is it safe to travel to Morocco as a woman? What should I wear?
Generally, Moroccans won't dare to harm a woman. However, if you're dressed up in extremely revealing clothes you might expect to hear some comments from here and there or a long, unnecessary handshake, as might be expected from men, especially young guys; it's part of the human nature.
In big cities like Marrakech, the situation is very liberal, so wearing revealing clothes might not be as a big of a problem, since even Moroccan girls and ladies do that all the time. But in the small towns and villages, where ladies are covered completely, you might be the center of attention to a whole street full of guys, if you're showing your charms. Dressing up a little bit more modestly might prove to be a very wise choice.
Also, some people will try to approach you, most of the time with good intentions, but you can't always be so sure about what people have on their minds. The solution to that is being more assertive about not wanting anything.
FAQ 4: What is it like when you're touring Morocco?
Let's start by telling you that it's an amazing experience that has a rich and diverse natural, cultural and historical aspect along with the exotic ambiance that accompanies you while you traveling around, which is why all the tourists love Morocco; It's full of fun, a little bit challenging and rewarding. (join Morocco Lovers Facebook group)
But on the flip side some of the services and interactions, to a Westerner, might seem dull and slow, but everything gets done eventually. Morocco is working very hard to develop its tourism sector, but life is just not as you got used to it in your beloved home.
If you want to book a Morocco tour, don't hesitate to contact us soon.
FAQ 5: Are the services in Morocco expensive?
Generally, Morocco is not an expensive country. A person on a budget, like students, for example, can manage just fine with 400-500 MAD (approximately 40-50$) a day or even less. Midrange spenders can do with 1000 MAD (100$) good. And of course, if you can afford to spend more, all we can say is that you'll get the royal treatment 😉
FAQ 6: How much should I tip in Morocco?
FAQ 7: Do I need to have travel insurance in Morocco?
Although purchasing travel insurance is something that is not very necessary to the point that it's a serious problem if you don't have one, having one might be a great idea. If something happens like a health situation or a lost property case, travel insurance will cover for that.
FAQ 8: What kind of accommodations will I expect to find in Morocco?
The range of accommodations in Morocco is very wide. Aside from the very fancy hotels that can be found in almost all of the touristic sites, there are Kasbahs, which are more or less like castles that have a traditional and exotic look. You can also book in a Riad, which can be found in the Medinas of many imperial cities of Morocco; these are ancient houses of the rich Moroccan families back in the old centuries. They range from 3 to 4 stars, and many of them are the proprety of non-Moroccans who invest in these historical artifacts. As for the services, you can just expect to be surprised by how good and satisfying they are.
Read more: Accommodation types in Morocco: Where to stay?
If you have any questions about accommodations in Morocco, please contact us.
FAQ 9: How can I change money in Morocco?
If you have US dollar ($) or Euro (€), you don't necessarily need to change it, as many shops and restaurants accept it. Anyway, you can change money at a bank or a change or a money exchange agency. You can just convert to Dirham (MAD) while you're in Morocco and save yourself a lot of trouble because it's a country that relies heavily on cash. As for VISA and MASTERCARD, they are accepted at many of the big shops, restaurants, hotels, and bars.
If you got any Dirhams left after you finish your vacation, you should sell them back because Dirhams are only useful in Morocco, although they will be a lower rate than when you bought them.
FAQ 10: What is it like to spend a night in a desert camp (bivouac)?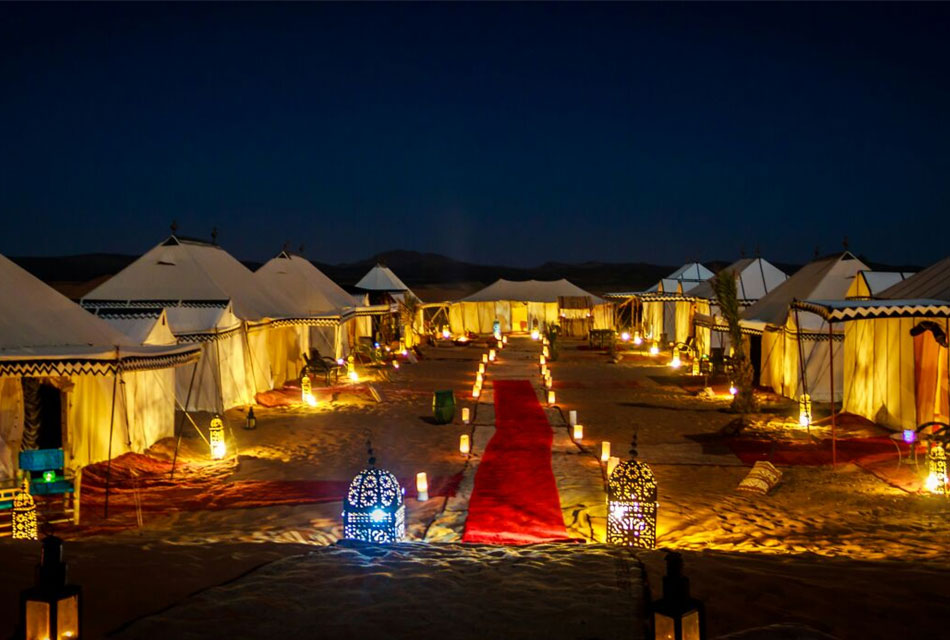 Visiting the Sahara Desert in Morocco is one of the most important and exciting activities that cannot be missed while you're in the country. The tourists usually leave their luggage at a hotel in the town near the dunes (Merzouga for example), and then, they go on a camel trekking tour to the middle of the dunes where they will find the camp. At the camp, they will enjoy local cuisine while looking at the clear night sky with beautiful Milky Way constellations. Meanwhile, a band of nomad musicians plays their drum music that renders the night magical. In the morning the tourists wake up early to take a glimpse of the amazing sunrise.
FAQ 11: What is a Morocco private tour?
One of the best ways to explore Morocco is to do it with a private tour agency. Friendly Morocco agency provides private multiple day tours that start from one on of the imperial cities: Casablanca, Marrakech, Fez, and Tangier; these tours take the span of few days up to two weeks where you have private driver-guide who will take you to explore the amazing landscapes cities and towns of Morocco along with having booked accommodations. This way you can spare yourself a lot of trouble planning everything.
Feel free to contact us if you're interested in a private tour.
FAQ 12: What kinds of vehicles are used in a Morocco private tour?
Book Your Morocco Tour
Book your Morocco trip with FriendlyMorocco expert team. We have wide selections of tours to choose from. The tours we provide are are well-organized to suit every passenger's needs. It is also possible to customize your tours. Feel free to contact us to get a quote or for more info!
FAQ 13: Is the food safe in Morocco?
The Moroccan diet might be a little bit different than the ones you got used to in your home country, which might cause discomfort to some people with vulnerable digestive systems. To avoid any unnecessary complications you can stick to the foods that you already know; you can find restaurants that serve burgers, pizza, steak, tacos… everywhere you go, especially in the big cities; you can even find McDonald's, Pizza Hut, KFC… However, we highly recommend that you taste Moroccan cuisine it's highly nutritious and delicious; it would be considered a waste not to do so.
FAQ 14: What is a Medina?
Whenever you encounter the word Medina you should know that it means an old city. Within the imperial cities of Morocco, such as Fez, Marrakech, or Meknes you will find an old part of the city that belongs to old centuries and has an ancient lifestyle and architecture. The Medina of Fez for example, which is a UNESCO world heritage site still preserves buildings from the medieval period (7th 8th 9th centuries). The most important charachteristc of the median is the narrow streets that seem like labyrinths.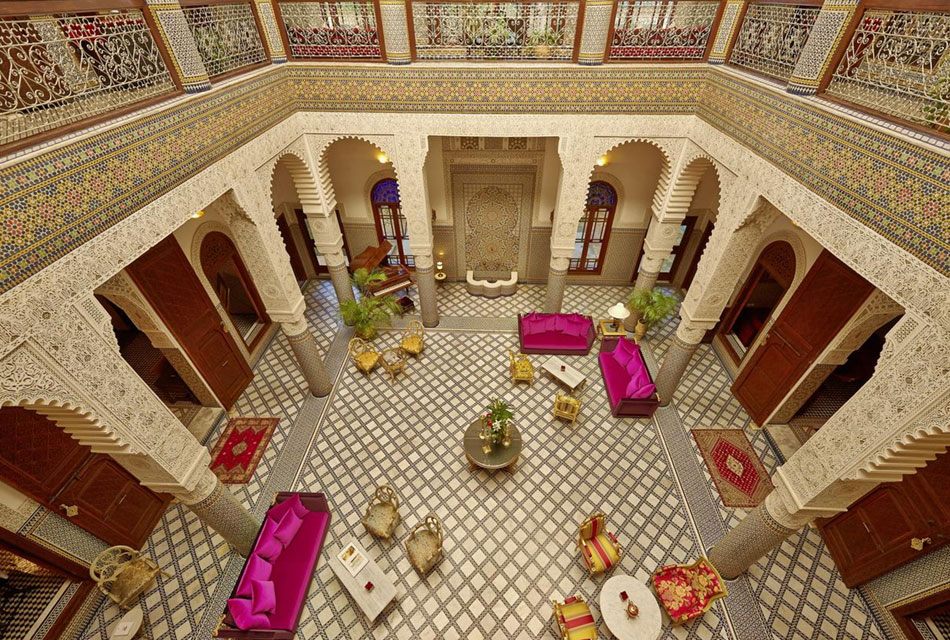 A Riad is an old type of house that can be found mainly in the Medinas of many Moroccan cities like Fez and Marrakech. These houses have a peculiar architecture, which is centered on the inside. The Riad has a courtyard with a fountain in the center, which is exposed from above, and all the rooms are faced inward. This type of architecture can be justified by the nature of Moroccan tradition, which was very conservative back then when the Riad was the standard house.
FAQ 16: What Are Kasbahs and Ksours?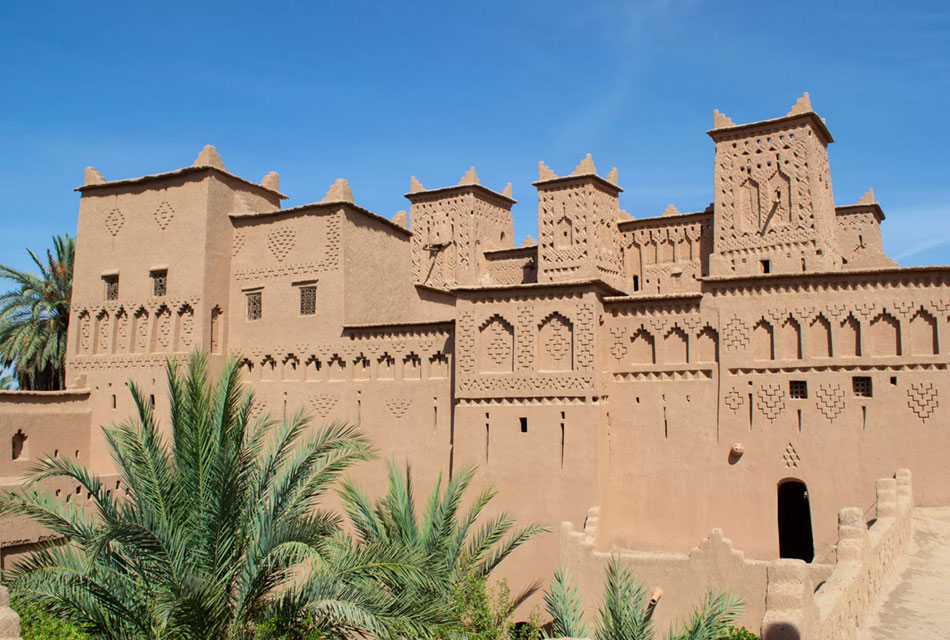 A Kasbah is a huge building that is made out of mud and straw. These kinds of buildings that can be found across the desert and the Atlas Mountains were mainly the homes of rich families or powerful people. Nowadays, the same structures are used by many hotels in their architecture, which is a wonderful thing that Moroccans do to preserve their cultural heritage.
Ksour, on the other hand, are large groups of small buildings that are built similar to Kasbahs, which are inhabited by many people, sometimes even hundreds; they're like villages to a certain extent.
FAQ 17: Is Morocco a conservative country?
Morocco is generally a Muslim country, which is more or less conservative. However, that's not the case all over the country. The big cities like Casablanca, Marrakech, Fez, and Tangier are very liberal and tolerant of taboos, mainly because most of the people are exposed to Western culture and are educated. But when it comes to rural areas and small villages, people are more conservative, especially toward women and sexual taboos.
FAQ 18: Should I give gifts to people?
Giving small gifts here and there might make you lovable and welcomed, especially when you're in a rural area; there's nothing that can make people more accepting than being generous.
However, with the rise of Pedophilia in Morocco, it might not be a good idea to give kids small prizes; that will only encourage them to be more audacious to approach strangers. Although your intentions might be very pure, some people, especially in Marrakech, are only there to find vulnerable children and abuse them!
FAQ 19: Is English used a lot in Morocco?
Most of the guides are adepts at English, so you won't have a problem communicating. Also, the majority of young people who have a fair education can speak the language; therefore, an English speaker can do just fine in Morocco.
FAQ 20: Where to buy sevounirs in Morocco?
You can get nice souvenirs with reasonable prices at the Souks (markets), Bazaars and shops, especially in the Medinas of the big cities. Some bazaars, however, sell very expensive artifacts, but beware of scammers; if you're not careful enough, you might get scammed into buying an overpriced item that is essentially worthless. Check out our article about scams in Morocco for more info. And check out our shop; there you will find a cool catalogue of exotic items
We hope that we answered some of the questions that you had in mind before exploring this article about the

frequently asked question about Morocco

.
For more information about this subject, or more elaboration, feel free to

contact us

, we are always happy to help.
Leave us a

comment

in the section below, we would love to hear your opinion.